Korea: Innovation, Improving Corporate Governance and a Pop Culture Powerhouse
Korea has emerged as a global powerhouse in many industries. Read Portfolio Managers Elli Lee and Sojung Park's latest on how Korea continues to create new opportunities for investors.
Subscribe
Over the past decades, Korea has emerged as a global powerhouse in many industries, building brands for both domestic and global consumers.
A Destination for Innovation. Korean companies dominate industries that cannot easily be replaced for global innovations. Initially a destination for an efficient labor supply, Korea has successfully become a leader in the semiconductor memory and electric vehicle-related production, adding value and innovating along the way. It is among the few countries that own dominant local platforms for internet search engines and e-commerce. Korea offers a well-balanced portfolio of both hardware brands and software capabilities.

The semiconductor memory market has consolidated over the last two decades. For DRAM, (dynamic random-access memory) which is responsible for fast storage in electronic devices such as personal computers and data centers, there are only three global players, and Korea has approximately 70% of the global production.1 Continuous technology advancements coupled with heavy capital investment have driven consolidation in the industry, helping Korean companies gain market share and deliver shareholder value.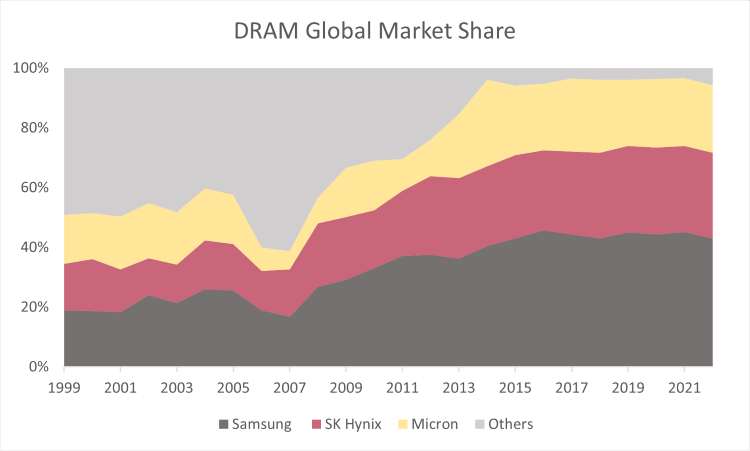 Source: Citigroup Investment Research
Japanese and western semiconductor production equipment players (SPEs) have played important roles supporting the industry's technology advancement. Recently, we've seen evidence that Korea is becoming a hub for advanced technology resources. Global equipment players are opening research and development (R&D) centers in Korea to support their clients and accumulating talent to staff these centers. It has been nearly 30 years since Korea has been in the memory industry and it has assembled an experienced talent pool to support this growing equipment ecosystem. Large companies such as Samsung and Hynix, the largest DRAM manufacturers in the world,2 have begun using equipment from local manufacturers for new technology migration.
Korea established a full value-chain in NEV (new energy vehicles) including key components such as batteries. Having domestic automotive players targeting global consumers helped Korea realize the importance of building strategies for the electric vehicle ecosystem value chain including batteries and components, and they hold approximately 26% of the EV battery manufacturing market.3 The internal combustion engine automotive industry was dominated by Western and Japanese players; it's interesting to see Korean supply chains and brands playing a bigger role in NEV era.
Korea built their chemical industry over the last few decades to meet global demand and has quickly caught up to the level of their global peers in specialty chemical production. However, with China increasing localization, the industry is becoming more commoditized. Korean companies have focused on new energy vehicle battery development using their acquired expertise, advanced technology and mass production from these specialty chemical producers.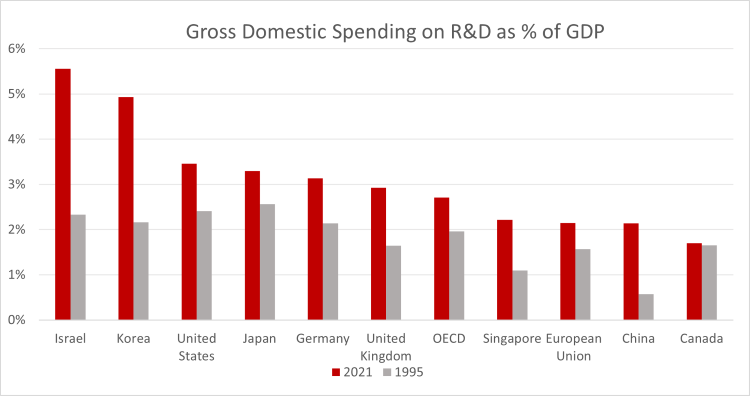 Source: OECD.com

All of these outcomes are driven by an R&D-focused mindset targeting a leadership role in the global marketplace. Korea has had one of the highest R&D investment per capita as a percentage of GDP.4 This investment coupled with a diligent work ethic and top-notch education have supported Korea's virtuous cycle of innovation advancement.
Improving Corporate Governance. We've seen many corporations in Korea establishing long-term shareholder return policies. Until recently, share buybacks and cancellations have not been the usual practice, but starting with large conglomerates, these have become options which create long-term value for existing shareholders. Comprehensive yield (dividend and buyback & cancellation) has improved close to 3% in 2022, and we are looking to see it grow from here.5
A Pop-culture Powerhouse. Korea has developed 'soft power' through global popularity of its content. Over the past decade, we've seen K-pop music, Korean drama and Oscar-winning films growing in popularity across Asia and recently the trend has exploded, resonating with a global audience. Korean internet companies have also innovated the way online comic contents are created and consumed. First launched in Korea in 2004 by Naver, the webtoons platform (web+cartoons; vertical scroll cartoons tailored for smartphones) has been gaining popularity around the world, and many of the creative stories from online comics have inspired and seeded global hit dramas and films.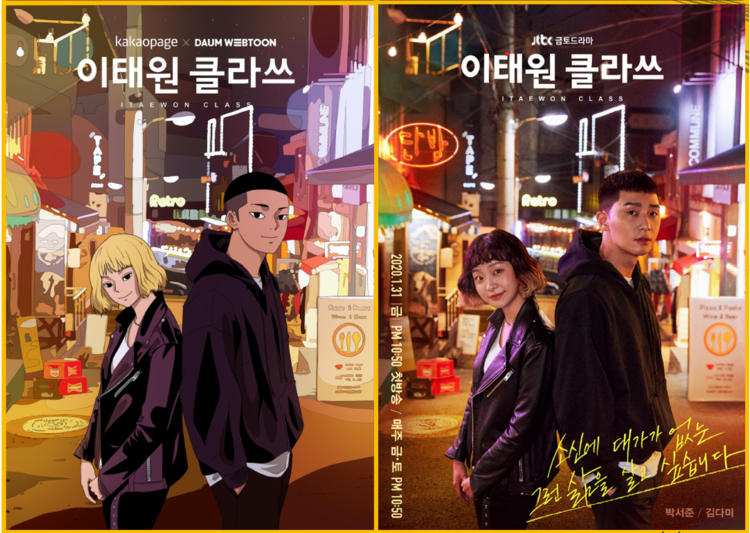 Itaewon Class is a popular Kakao webtoon and was dramatized in 2020.
This is important as we are starting to see companies creating intellectual property libraries with aspirations to generate sustainable cash flows. In addition, growing popularity is at the center of the phenomenon of increasing demand for Korean brands across different product categories in the global market. According to Korea Export-Import bank, a US$100M increase in K-content exports would lead to a US$180M increase in consumer goods exports, implying a positive and direct influence of Korea's soft power on consumer goods trades. We think the country's growing soft power may 'spillover' and provide a sustainable, growing, competitive advantage to many Korean brands looking to target global markets.


Elli Lee
Portfolio Manager
Matthews Asia
Sojung Park
Portfolio Manager
Matthews Asia