Innovation in Asia: Building Competitive Moats for Long-Term Growth
Companies that compete on innovation may create a more sustainable foundation for long-term growth. Matthews Asia portfolio manager Michael Oh discusses two decades of investing in innovation in Asia.
Investing with a growth mindset, the Matthews Asia Innovators Fund seeks companies that may have an edge in their industries via research and development, product design or future-looking business models. For more than two decades, the portfolio managers of the Matthews Asia Innovators Fund have been conducting on the ground research in Asia and building portfolios from the bottom up. During that time, significant transformations in rising consumer income and growing corporate competitiveness have expanded the opportunity set for growth investors.
The Matthews Asia Innovators Fund
With a focus on big secular trends, we believe the Matthews Asia Innovators Fund is well positioned to capture the structural growth of Asia's economies through an innovation lens. On research trips to Asia, we focus on understanding the pipeline of new business ideas coming to market. This can take the form of meeting with pre-IPO companies, newly listed companies and private companies. In regular meetings with business owners in Asia, we focus on understanding new business initiatives and R&D activities across the region. As we evaluate existing business models and competition in Asia, we proactively scan the business landscape to find new emerging business leaders.
We define innovation very broadly as new ideas coming to market. These new ideas may include:
Business model innovation—disrupting older business models and introducing new ways to generate sales and revenue
Product and services innovation—introducing new products and features or offering improved performance
Strategy innovation—revamping corporate strategy to drive growth
Marketing innovation—reaching new cohorts of consumers and segmenting product lines to match consumer demographics and demand
Organizational innovation—creating employee incentives that may be new to a specific labor market, create a competitive edge in human capital
As domestic consumption becomes a bigger driver of Asia's economies, manufacturers seeking to market at scale have to differentiate their offerings for more discerning consumers. That is why they are investing in a combination of research and development, product innovation and, most notably, branding. Asian brands are particularly strong in consumer appliances, including specialty products like water dispensers and air coolers. Homegrown cosmetics brands have been successful as well, with companies using traditional local ingredients and formulating their products to the distinct characteristics of Asian skin.
Asia's Unicorns Signal Healthy Ecosystem for Innovation
One third of the world's unicorns (start-up companies valued at US$1 billion or more) come from Asia. Out of 432 unicorns globally, 141 are located in Asia. Start ups are an interesting area of the market to watch because they tend to require a disruptive business model to gain funding. For investors who may be interested in capturing global innovation trends, we believe Asia should be part of an overall allocation mix. If you're missing Asia, you may be missing a prime source of future global growth.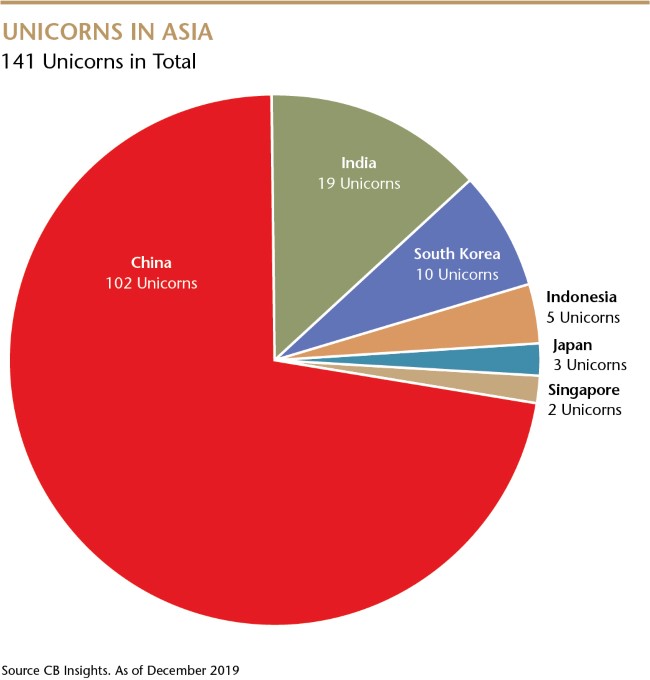 Many areas of innovation, from e-commerce platforms to flash memory and DRAM, find leadership in Asia. A billion smart phone connections in China, as of 2018, create considerable upside for e-commerce, and the start-ups that benefit from Asia's digital ecosystem. And companies in South Korea are innovating in the production of DRAM (dynamic random access memory) and NAND (nonvolatile memory), benefiting from growing worldwide demand for products that employ semiconductors. By some estimates, there will be more than 6 network connected devices per person globally in 2020, fueling growth for flash memory products in Asia and worldwide.1
Targeting the Discretionary Side of the Consumer Wallet
For Asia's economies, rising consumer incomes creates new categories of discretionary consumer spending, especially around services consumers haven't previously had access to. In discretionary spending categories, products tend to compete more on brand and intellectual property. We are attracted to this area of innovation as premium brands may have the potential for more pricing power. China in particular has seen a surge in discretionary spending. Examples include:


Groundswell of outbound travel—Some 120 million Chinese citizens have passports, with an estimated 30 million issued 2019. It is no longer unusual to see groups of Chinese tourists in Paris or London, New York or San Francisco, or even on African safaris. Increasingly, though, China's middle class is discovering destinations closer to home, such as Thailand's temples and beaches. Direct flights from midsize Chinese cities to Southeast Asian countries make regional travel convenient and affordable for more people. This is creating secular growth trends for everything from tour operators to duty free stores.
Secular demand for premium foods and liquors—Chinese consumers often favor local products, including high-end spirits. Baijiu is a clear, grain-based liquor with alcohol content higher than 50%, popularly served at banquets and celebrations such as weddings. In China, the baijiu has a long national heritage and an aspirational positioning in consumer lifestyles. Innovative liquor companies are tapping into this opportunity by segmenting product lines for younger consumers through bottle designs and expanded flavors.
Rising health care spending—China had an estimated 4.2 million new cancer patients reported in 2018, the most recent year for which statistics are available from the World Health Organization. China is on an ambitious path toward becoming a world leader in immunotherapy for oncology. Within the biotech realm, truly innovative biologics drugs hold particularly significant upside potential. Biologics account for just a small percentage of total prescription drug spending in China compared to the U.S., with considerable room to grow.
Asia's consumer market is expected be larger than that of North America and Europe combined. For innovative companies, this means an opportunity to expand in areas of higher value products and services. Consumer tastes are becoming more sophisticated and forward-thinking companies are catering to this demand through more segmented and targeted product lines.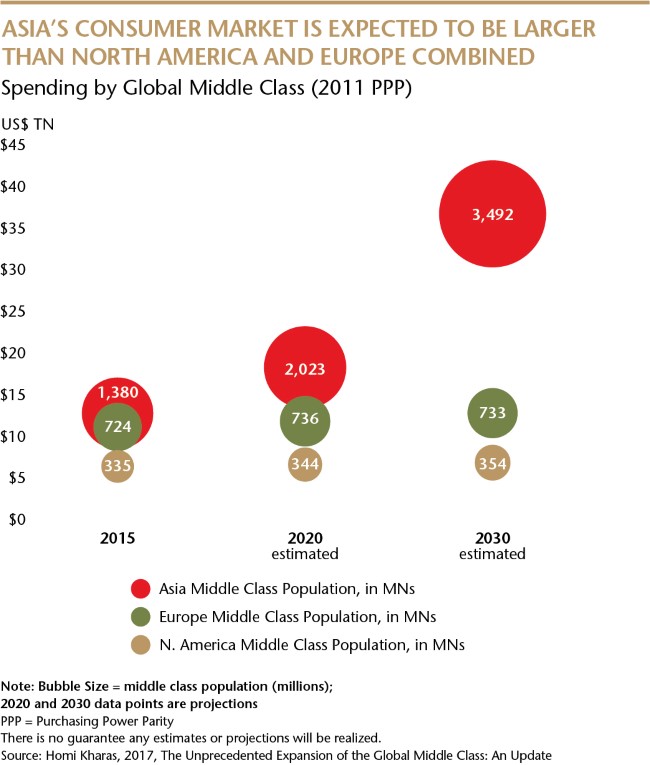 Opportunities and Risks of Investing in Innovative Companies
As change agents, innovative companies often have opportunities to increase market share. At the same time, being on the front lines of change can create risks of misjudging consumer tastes or of being too far ahead of the market. To help manage these risks, we believe that bottom up security selection is key. While we often have a constructive view on the growth potential of particular sectors or industries from the top down, we believe portfolio construction should begin bottom up, considering the strengths and risks associated with each individual company via proprietary, fundamental research. In addition, investing with a growth mindset, we believe it's important for investors to keep in mind that growth oriented companies can experience greater volatility in share prices over the short term than value stocks. Across a full market cycle, however, we believe innovative companies can present compelling opportunities for long-term alpha generation.
Investing in Asia's Entrepreneurs
Competing on innovation rather than price creates a more sustainable foundation for long-term growth and value creation, in our view. Looking back at two decades of investing in innovation in Asia, we've seen dramatic transformations. Perhaps the biggest has been the shift toward competing on value-added services through nimble, responsive and forward-looking business models. Entrepreneurs in Asia are creating their own pathways for success through creativity and innovation.


Michael Oh, CFA
Portfolio Manager
Matthews Asia


1 Statistica.com, Number of network connected devices per person around the world from 2003 to 2020. 2020 figures are estimated.